Upon crossing the border from Kazakhstan the tone immediately changed. The border guards were not nearly as surly as they'd been in Kazakhstan, the roads instantly deteriorated and the landscape changed from modern to less-developed surrounded by snow-capped peaks. This was Kyrgyzstan.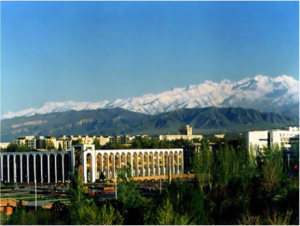 Now, first impressions don't really mean anything to me. If you judged a country on its capital city, then you would most likely will have a poor idea of any country. Bishkek, the capital of Kyrgyzstan was no exception. However, even Bishkek itself has a number of hidden gems that are definitely worth exploring. If you're into the style of the old Soviet Union, then you will absolutely adore this city. Old statues of Lenin and engravings of the hammer and sickle adorn buildings with a picturesque mountain backdrop, rightfully earning the country's title as the 'Switzerland of Asia'.
Kyrgyz food, though limited, is much better than many people say it is. Paprika flavoured stews and barbecue are the go-to... and the best thing is, it's dirt cheap! The hearty nature of the food with a heavy Russian influence is perfect for those long cold days in the mountains. In my opinion, it also makes for some of the best après-ski food there is. Combined with cheap vodka, shashlik skewers (kebab meat sticks) barbecued out in the open, in the snow, is truly glorious.
While Bishkek does have its charms, there are far more reasons to travel here. To the east lies a small town known as Karakul, about a 5 hour drive away. Karakol lies on the far edge of Issyk Kul Lake next to tall mountains that form the border with China. During the Soviet Union, Karakol was where the Soviets would train for the winter Olympics, with all things skiing available amongst an amazingly picturesque backdrop of some of the world's highest mountains.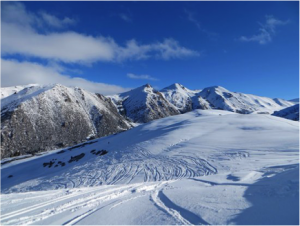 The best thing about skiing in Karakol (aside from the views) is the price. For a mere USD $20 per day you can enjoy all the runs at the main resort. This was why I came to Kyrgyzstan. Traveling with a local friend, we found our own furnished studio apartment for USD $8 a night! For the budget traveller and lover of all things snow related, Kyrgyzstan comes highly recommended. What makes this place even greater is that it lacks the crowds of the more popular destinations in Japan, Korea and Europe. For these prices, the epic landscape and the lack of other tourists, what's not to like?
Traveling through Central Asia of course does come with some hiccups and there are some things you should watch out for.
First of all, the police here (like many other developing countries) should be largely avoided unless you have a real problem. There are plenty of stories of people being stopped and asked to hand over their passport for inspection then asked to pay a fine for the passports to be returned. Even when traveling with a local, we were stopped several times on the road because I was foreign and we were both young. What we can laugh about now was certainly a little unsettling at the time, especially if you have a giant burly Kyrgyz police officer frisking you on the side of the road because he thought your cigarette was something more soothing.
Second, the roads in cities are not great (understatement), especially in winter. They may be covered in an icy mud sludge, which makes traffic a nightmare and walking places even worse. Fortunately, roads in-between cities throughout the country are excellent, with several new highways built by Chinese prisoners via a deal between the Kyrgyz and Chinese governments.
All seasons offer something great in Kyrgyzstan, and with most countries being offered 60-days visa-free entry, now is the time to go! Despite its negatives, this Central Asian beauty has so much to offer and is an amazing place visit. Our next tour to Kyrgyzstan will be our Kyrgyzstan Independence Day tour this August. Come check out what this awesome country has to offer.
Source: http://www.youngpioneertours.com/blog/wonders-of-kyrgysztan